G'day! Byron the Quokka here–and would you believe it? Next time I'm here, it won't be June anymore. But in the meantime, Quokka University still brings you shows like these:
7:01 P.M.  Ch. 18   OCD EXPRESS–Crime drama/Game show
The cops at the 55th Precinct all suffer from OCD–so they need the help of you, the viewers, to get out from behind their desks and solve some crimes! The world's first interactive cop show, you name the crime and you decide whodunnit! Inspector Farrakhan: Dom DeLuise. Sgt. Flabb: Unidentifiable. Officer Perky: Irish McCalla. Lt. Fillibuster: A potted rubber plant.
7:15 P.M.  Ch. 05  WHIMPERING SMITH–Western
Sam Waterston stars as Sheriff Jake Smith, the whiniest lawman in the West. It's all Deputy Snivel (Yogi Bear) can do to stop him from "annoying people to death!" This week: A psychotic rotifer rustler (Alain Delon) tries to shoot himself rather than listen to any more of Jake's whining.
7:30 P.M.  Ch. 27  NEWS WITH GNUS–News & commentary
Highest ratings ever for a major news show! A team of wildebeests, backed up by great ventriloquists just out of sight, covers all the news while munching grass, mating, head-butting, and running away from lions. Of course, that's it for Sports that night, if the lions catch the gnu who happens to be covering it…
Ch. 41  RUIN YOUR HEALTH!–Health & fitness
Uzguck Swaley has been called "the Anti-Jack LaLanne," but there's a method to his madness! Unfortunately no one knows what it is. This week Uzguck introduces a new exercise "that hurts like hell and doesn't accomplish anything at all." Special guest: the cast of "The View."
8 P.M.  Ch. 71  MOVIE–Ancient Egyptian fertility tragedy
(Give us a break: we don't make 'em, we only show 'em!) In My Mommy the Mummy (Norman/Saxon, 1966), the June Taylor Dancers star as oppressed but dismayingly cheerful peasants whom the evil Pharaoh (Reggie Jackson) just can't control… but maybe Vincent Price (himself) can! Columbo: Peter Falk. Peter Pan: Mary Martin.
Well, folks, have we aroused your appetite for gourmet TV? Sorry, we had a live cooking show planned, but everybody's laid up with food poisoning. I told them about those mayonnaise!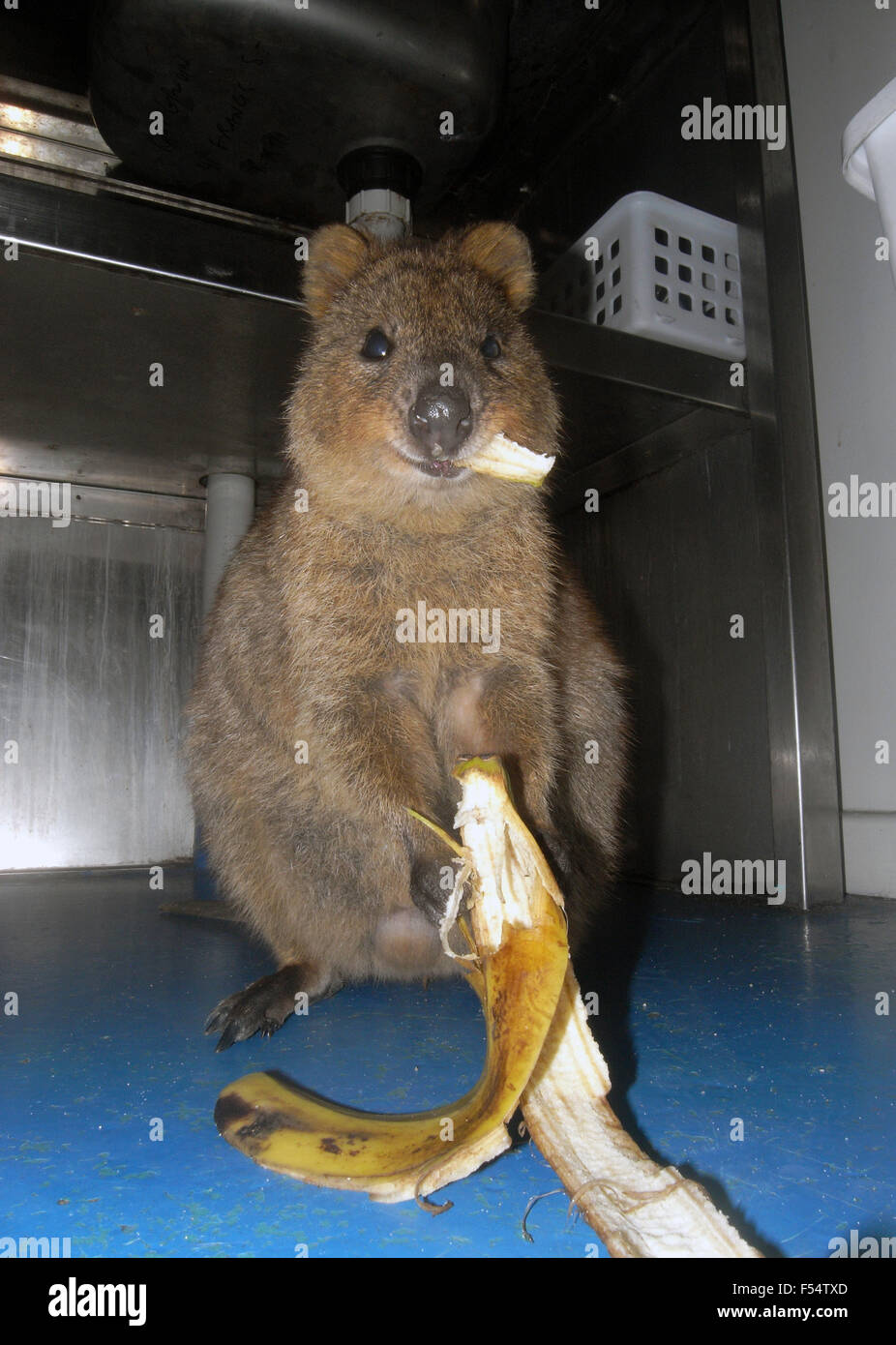 Byron the Quokka, signing off. Banana peel, anyone?