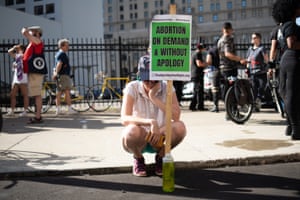 Oh, forsooth, this nooze! Let me outta here… But first this.
"Trending on Twitter"–I'd be very disappointed in myself if I actually cared what was "trending" anywhere–is a gambit by pro-abortion nut jobs: "#SexStrike" (https://www.dailywire.com/news/sexstrike-trends-on-twitter-after-supreme-courts-abortion-ruling)–a proposal for all women to withhold sex from all men except those who are in favor of abortion.
"My legs are CLOSED!" tweets one. "Take the pledge" to, uh, "fight" for abortion, tweets another. This message is "to all people with a uterus." I believe those used to be called "women." It's all the Supreme Court's fault! So no more sex until abortion–preferably unrestricted, right up to and including infanticide–is once more the law for all 50 states.
Do they think we can't live without "having sex" with them? Can you imagine being married to one of these witches? Like, every time a baby's safely born, it's like dripping acid into the witches' eyes. Who wants to be across the breakfast table from a mind like that?
These are not nice people; nor are they quite all there.