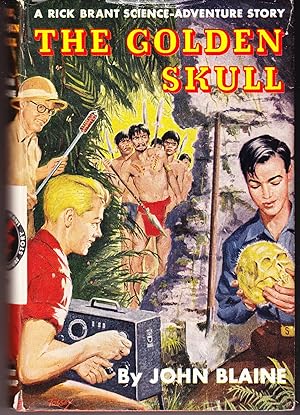 My allergies are annihilating me today. Maybe if I sit outside with a cigar and read The Golden Skull, I'll find some relief–or at least the illusion thereof.
I don't know how many times I've read this book since I was a boy. I started re-reading it yesterday–and the author's ability to set the scene just blew me away! He wants you to imagine you're in the Philippines, and so he puts you there. Effortlessly! Without slowing down the story, without any sense of padding, he smoothly introduces one detail after another… and next thing you know… you're there.
This is technique of a very high order. Few storytellers can match it.
"John Blaine" was a pseudonym for Hal Goodwin, whose "Rick Brant science adventure" stories helped light up my childhood. And I still admire them today.
If you want to write novels, you can learn a lot from these books. I stand in awe of Goodwin's ability to seamlessly insert details of the scene into the plot. His book is like a smoothly-running conveyor belt.
I keep on studying these. I learn from my favorite authors. That's where the learning is.