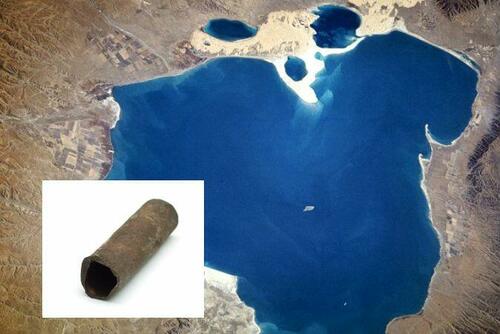 Mysterious iron pipes: go figure.
I'm tired, and there's so much politics out there today, it's making me dizzy. Maybe it's getting to you, too. So here's a break.
'Out-of-Place Artifacts, "Ooparts" for short, have been puzzling scholars and scientists for years. Are they just quirks produced by nature–or do they push back human history by thousands or even millions of years? Were there advanced civilizations on the earth that have left only these little scraps behind?
https://www.zerohedge.com/political/17-out-place-artifacts-suggest-high-tech-civilizations-existed-thousands-or-millions
Some of these have been kicking around for years: light bulbs (so it seems) in ancient Egypt, batteries (so it seems) from ancient Babylonia, medieval maps showing Antarctica as ice-free–these have yet to be explained.
Others I'd never heard of till now: the "Great Wall of Texas," what appears to be a rock structure, some 400,000 years old; broken pipes from China (where's a plumber when you need one?), said to be 150,000 years old; an ancient nuclear reactor; and more, quite a bit more.
Are we sure we know what we think we know?
The Bible tells us there was civilization before the Flood. Maybe this stuff is all that's left of it. I think we can view the supposed ages of these Ooparts as just guesswork. Maybe they aren't man-made artifacts at all. Nobody seems to know quite what they are.
We are told it took mankind tens of thousands of years to begin civilization. We are not told why it took so long, or how it ever got started at all.
We do have a lot to learn.