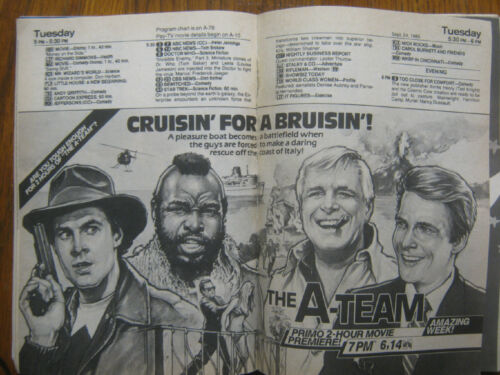 G'day, everybody! I hope you've set aside enormous blocks of time for TV viewing, because we've outdone ourselves this week, bringing you the hit shows that never had an audience! Here's a brief sample from our menu:
8:45 P.M.  Ch. 03  NEWS WITH LIVERWURST–News & commentary
Join Mr. Schlockengruber at the Garden State butcher's counter, while he serves up the day's news while serving his customers, too. Is it any wonder that he sometimes gets mixed up? But you've got to see him wield that cleaver whenever it's Congress in the news. Weather: Carlos the Delivery Guy (he would know).
9 P.M.  Ch. 08  THE W TEAM–Action & Inaction
The A Team's busy, the B Team's all shot up, and eventually we work way down to the W Team ("When it really doesn't matter, send for us!"). Pro wrestling legend Silvano Magucci (Dean Rusk) leads his team (Salvador Dali, Theda Bara, Elmer the Bull–he provides the glue–and Ernie Bushmiller) in one hazardous but completely unimportant assignment after another. Tonight: Find Ted Mack's dentures.
Ch. 14  THE BARE FACTS–Lewd sitcom
What happens when a retired superhero (Bob Costas) opens a nudist colony in Alaska? WARNING: Much of this show had to be blacked out. Especially those parts with the June Taylor Dancers. And the mosquitoes and black flies. This week: Ozzie (Francisco Franco) loses his pants in a strip poker game. [We do not see the point of playing strip poker at a nudist colony, but apparently the focus group likes it.]
Ch. 33  TONS O' TALK–Celebrity talk & variety
Jimmy Fraud interviews celebrities you never heard of! Icepick Sam, Dr. Foo the Mad Dentist, Susan Gesundheit… Hear him ask the questions you would ask if you had any idea why these people are famous! With the Karamazov Bros. and their orchestra.
9:08 P.M.  Ch. 56  MOVIE–Marital Arts
In Secret Techniques of the Drunken Water-Dowser (Chinese-Canadian, 1998), a disgraced Mountie (Groucho Marx, CG) enters Hung Lo Monastery, where Master Chee (Larry Storch) teaches him secret techniques. Meanwhile, Bigfoot (Linda Hunt) ravages the countryside–and the monks can't seem to stop it. Can Sgt. Woo Wei Shu recover his honor by kung-fuing Bigfoot into oblivion? Song: "I've Got Spurs That Jingle-Jangle-Jingle."
Well, that's that! Someday the whole world will shut down just so people can tune in to Quokka University for thrills 'n' chills.
Byron the Quokka, signing off.