G'day, boys 'n' girls! Byron the Quokka here, with Quokka University's "Save Your Sanity" campaign–save it by watching these cool TV shows. Like for instance…
7:00 P.M.  Ch. 06  MacTavish of the Jungle–Adventure
A Scottish crossword puzzle expert (Jose Valdivielso), marooned in the jungle, has to live by his wits! This week: Chief O'Brien (Phil Rizzuto) hears a rumor that the cannibals are coming; it's up to MacTavish to cool him off before he explodes. Featuring the June Taylor Dancers, "Song of the Coccyx."
Ch. 18  NINNY NEWS WITH BILL BANIPAL–Assyrian Empire news
"Ninny" means "Nineveh," the ancient capital of the Assyrian Empire. What would the news look like if that empire still existed? If it ruled the world? Anchor Bill Banipal, with some aunt of his, tackles questions that have troubled hardly anyone at all, ever. Sponsored by Turtle Wax and Fong's Dental Floss!
7:12 P.M.  Ch. 88   MOVIE–Unbearable suspense
Directed by Luther Rackley, who once played in the NBA, and starring Susan Sontag and Red Buttons, Oedipus Wrecks (363 minutes) updates the classical Greek tragedy to modern times and makes it about a small towing firm down on its luck. Written by monkeys! Queen Jocasta: Barbara Billingsley–with Jerry Mathers as the Sphinx. Voted "Most Appalling Film of 1958."
8 P.M.  Ch. 29  COLLIDGE BOLE–Game show for doozies
Hogmouth University's team of crash test dummies–they have yet to score a point, but keep winning their matches–takes on Yale's "Straight A's Brigade." Last time they were here, Yale scored negative 32 by incorrectly finishing the sentence, "What goes up must come ____." Moderator: Some guy from OPEC.
Well, now, how's that for stellar television! My nest could be filling up with water and if I was watching Ninny News, I'd never notice till my potato chips got wet!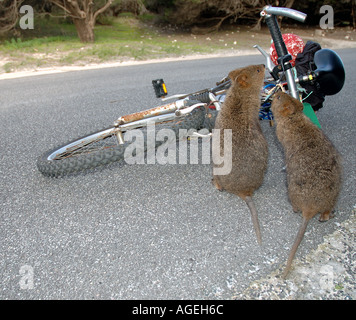 Me and Cousin Feezy checking out a seemingly abandoned bicycle.