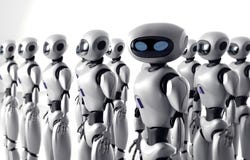 Happy little robots all!
By cracky, they'll preach "diversity" at you till the cows come home; but heaven forbid they ever practice it.
I mean, their motto ought to be "To think is to group-think." You'll find more individuality in an ant-hill. And they're supposed to be "science" willies. I don't know what they mean by "science." Maybe it's "whatever everybody thinks" at the moment.
Just try to inject some "diversity" into any academic milieu and see what happens. Be prepared to duck.