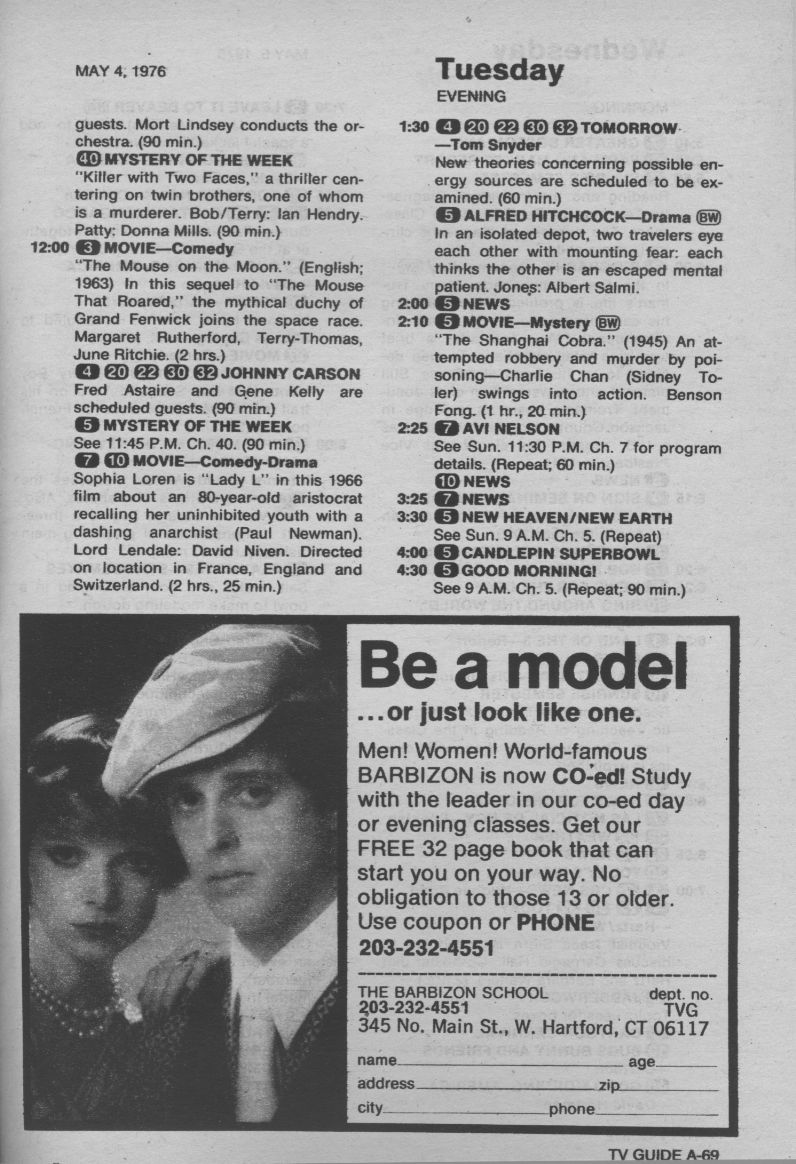 G'day, g'day! Byron the Quokka here, with star-splangled TV for your 4th of July weekend! And when you're done watching… why not become a model?
7:30 P.M.  Ch. 14  WELCOME BACK, STUPID–Comedy (with tragic overtones)
Take a wrong turn, and back you go to high school! This week: Spunky (Debbie Reynolds) and Gargoyle (Howard Duff) wake up to find themselves trapped in Ho-Hum High–and the school bully (Linda Hunt) is out to get them! Principal: Some old Greek guy whose name we forgot.
Ch. 26  NEWS WITH DAN RATHERNOT–Just what it seems
News with a hysterical studio audience! Instant feedback! Watch Dan duck as shoes, coffee cups, and sardine cans are thrown at him. Sports: Phyllis Willis, trying to be heard above the boos. Weather: Tongue-tied Tim. Sponsored by 20-Mule Team Borax!
8 P.M.  Ch. 08   MOVIE–Pitfalls of the paranormal
In How's That Ziggurat Coming Along?, two ancient Babylonian punsters (Bob Hope, Bing Crosby) get sucked into the 23rd century, where they don't know anyone. This ground-breaking Saudi Arabian science-fiction thriller offers 205 minutes of thoroughly unconvincing Bob and Bing stand-ins. Theme song: "1,999 Barrels of Beer on the Wall."
Ch. 51  SEND 'EM UP THE RIVER!–Courtroom drama
The judge (Alf Landon) can't hear, the D.A. (Florence Henderson) can't speak clearly, and the jury is usually drunk–and somehow justice doesn't get done! This week: Serial murder suspect (Tab Hunter) gets bored with his trial and just walks out! Song: "Jennifer Juniper"
8:15 P.M.  Ch. 58  CHESS FOR LIVESTOCK–Educational
Do you have a chicken who can play the King's Gambit? A cow who's never lost a game? Or maybe a goat who won't accept a draw? Really, who wants to watch a bunch of human nerds play chess when you can watch farm animals instead? This week: Bunny turns the tables on the French Defense. Host: Pinky Lee.
Well, that's all this and more! What a great TV weekend's shaping up for you!
My nephew, Faizie–he's got the best seat in the house.