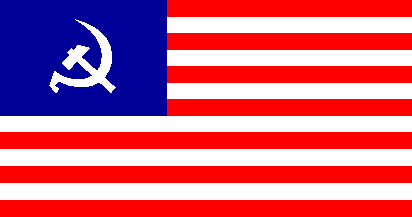 We see these things in history, we see them today in totalitarian countries like China, North Korea, Venezuela and the rest. But we never thought to see them here.
Out of a 2020 national election that stank to high heaven, we have lost all our checks and balances and are saddled with a tyrannical leftist regime that seems bent on pursuing insane policies that will damage America severely–policies that no one but the Far Left Crazy supports: higher taxes, tearing down our borders, promoting and expanding abortion, etc., etc.
The most shocking thing about it is that there appears to be a body of opinion that's convinced that it would be kind of nice if our country were to be "transformed" into something more closely resembling Communist China and those other countries mentioned above. At least they've said so. Crushing people for having the "wrong" political opinion, silencing dissent–and forbidding even mere questions–and spying on each other, surrendering the streets of our cities to thugs from Antifa and Black Lives Matter, aborting more babies, pushing "transgender" as if their lives depended on it: all of these have been openly, vigorously, advocated by Democrats. They've thrown off all pretense of loving our country. They hate it, they despise it, and they want to turn it into a neo-Soviet Union.
How did we wind up with these?
We don't know what to do about it. We are some 75 million strong, but maybe that should read "75 million weak." Whatever strength we have, we're at a loss for how to use it.
We have nothing left but our prayers, and our trust in the power, justice, and righteousness of Almighty God.
Pray hard.
Pray often.