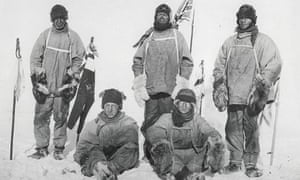 Every last one of them died.
In our mania for "change" and "transformation," we've come up with many ways to defy reality–all in the interests, of course, of creating "equality" and a utopia on earth. Imperfect sinful stupid human beings creating a perfect world: uh-huh.
So the BBC is going to run a series called "No More Boys and Girls: Can Our Kids Be Gender Free?" Because, again, doing away with the male/female distinction will create "equality" and a paradise on earth. To this end, an "expert" has been given a free hand for six weeks at a school, where he means to wipe out all visible signs of difference between boys and girls.
Male and female created He them, chuckles.
Reality is real and you can't cheat it forever. Sooner or later it will eat you. Let me offer an analogy from history.
On January 17, 1912, a party of five British explorers led by Captain R.F. Scott reached the South Pole–a month after Scott's rival, Amundsen, got there. On the way back to base, all five of the British died. All five. The Norwegians got back to their base all safe and sound with everybody healthy.
For "reality" read "Antarctica."
The icy continent has its own unique conditions which brook no compromise, no negotiation. You either do things Antarctica's way, or you don't do them. Amundsen's expedition was consciously made to conform to Antarctic conditions. Scott ignored those conditions. Here are some of the disastrous decisions he made–all of which had nothing to do with how to survive in Antarctica.
He passed over his strongest, fittest men and took those who were much less fit. He took one man from the Army because he decided the Army had to be represented. Sort of a token, you see. The Army man died. But then so did all the others. He also took an older man who'd already been weakened by earlier adventures in the killing cold, because the man was his friend and supporter. No one who was fit for the journey was picked.
Although the polar party was provisioned for four men, at the last minute Scott decided to take five. The fifth man didn't have skis.
For transport of supplies he relied on ponies. The Antarctic is no place for herbivores: nothing for them to eat. The ponies failed and died.
Failing to account for weather and climate conditions, Scott didn't keep accurate track of  the location of his supply dumps. His party lost considerable time finding them again.
Wishing to salvage some good public relations after losing the race to Amundsen, Scott chose to have his freezing, starving men haul loads of fossil-bearing rocks back to base instead of leaving them somewhere to be picked up later.
And on and on. Did Scott think he could make it to the South Pole and back just because he wanted to?
It remains to be seen whether Western society can make it back alive from its expedition to Transgender Land.