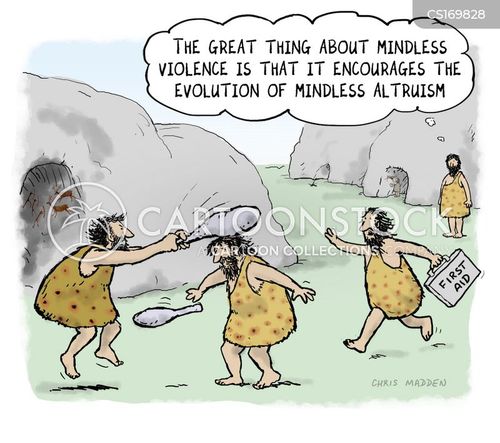 Way back in 2004, some scientists–I use the word advisedly–trotted out a theory that Homo erectus, formerly known as Java Man, had a really thick skull, much thicker than ours, because the males had a habit of popping each other over the head with clubs. This cartoon-like image was carefully dressed in the most posh scientific language ( http://www.naturalhistorymag.com/htmlsite/master.html?http://www.naturalhistorymag.com/htmlsite/0204/0204_feature.html ), but when all's said and done, it's still a cartoon.
Working from scanty evidence, if we might be so kind as to call it that, scientists reasoned (if we may call it that) that Mr. Erectus evolved his thick skull because the other guys were beatin' on him: in their words, a lot of Erectus' anatomical features "evolved in response to interpersonal violence."
I can't tell whether this is bosh or tommyrot. Are they really asking us to imagine untold generations of Alley Oop conking each other on the noggin until thicker skulls "evolve"?
Yeah, yeah, I know, natural selection and all that: the lads with the thin skulls get clubbed out of existence, and only the ones with the thick skulls survive to make bambinos with thick skulls, chips off the old blockhead. Except DNA can be so uncooperative in that regard! It keeps on reproducing the same thing, unless somehow interfered with. But most of those random mutations are either harmful or totally without effect, so the great humanist god, Chance, is called upon to work miracles.
Loaves and fishes, no. Thick skulls from thin skulls, can you gimme halleluia?
Meanwhile it's 50 degrees outside today on May 15 and there's a frost warning on for tonight… and you can bet the house that sooner or later some government scientist is going to come along and declare that this has been the warmest May in recorded history, blah-blah-blah…
And they say we Christians believe in silly things.