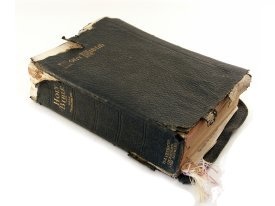 Some fifteen years ago, maybe more, before the seminaries really got rolling with womanist theology and Social Justice as a substitute for God, I interviewed a high official of the United Methodist Church. And this is what he said.
"The first thing I learned in seminary is that the Bible is not the word of God." He seemed proud of it: too clever, he, to believe that the Bible is anything but a lot of old, cobwebby, made-up stories about things that never happened and people who never lived.
"Truth," he said, "is determined by realpolitik." (Maybe he thought he was Bismarck, or Henry Kissinger.) Whoever can round up the most votes, whoever can spend the most money, whoever can most successfully intimidate the opposition, gets to say what truth is.
This leaves us with no truth at all.
That was years ago. The flatline liberal churches were already carrying a heavy chain of hypocrisy; and, like Scrooge in A Christmas Carol, they have "labored on it ever since. It is a ponderous chain."
But we do have the Bible, it is God's word, and we have one another.
Which means we don't need the flatline churches. And more and more Christians are coming to realize this.