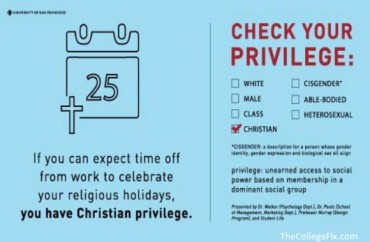 Let's see what the chip-on-the-shoulder industry, aka our nation's universities, has added to the menu now.
George Washington University–if Washington were alive today, he'd be leading an army against these people–will be hosting a 90-minute "training session" to combat "Christian privilege" and all the "unmerited perks" enjoyed by Christians in America (http://www.foxnews.com/us/2018/04/03/prestigious-university-hosting-student-training-seminar-on-how-to-combat-christian-privilege-in-america.html).
The "seminar" will be led by the looniversity's LBGTQIA–they keep adding letters to it–resources director, and among other crapola, will focus on "LGBTQIA diversity and inclusion." It is a project of the school's Multicultural Student Services Center.
Obviously GWU has way too much money. Way too much.
Oh–they also say the problem is "white people." But then it's always white people. No racial animosity here, folks.
And you send your sons and daughters to these institutions because _________? Go ahead, fill in the blank. While you're at it, see if you can spot the hate-mongers.
If anyone comes out of college sane, it's got to be a systemic failure.