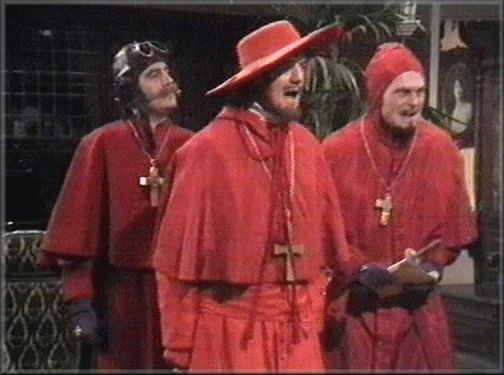 "Nobody expects the E-town Inquisition!"
Why does anybody want to go to college? Why do parents send their kids? It costs a fortune, and what do you get?
Take, f'rinstance, Elizabethtown College (never heard of it) in Pennsylvania. They're playing with FIRE (https://justthenews.com/nation/free-speech/college-accused-racial-segregation-banning-crt-criticism-using-covid-punish)–that is, the Foundation for Individual Rights in Education–who has warned them to stop violating civil rights laws. Indeed, FIRE says the school violates many of its own stated policies.
*E-town, as they call it, practices segregation. Like so: "This group will be a space for people who identify as individuals of color." I suppose I could walk through the door and "identify" as a Zulu; but the intent is clearly racial segregation. Not lawful.
*And because black students are "extremely marginalized" (and whose fault is that?), any "negative view" of Critical Race Theory is against the rules and will be punished. You know CRT–all whites are evil racists, all non-whites are pitifully oppressed and need white liberals to lead them across the street. Well, you can't have a negative view of that.
*The "college" has also gone after a student group that privately raised money for traveling expenses, after the school refused to give them any. Somewhere there must be white supremacy here… has anybody looked under the rug?
This shabby excuse for a college is affiliated with the Church of the Brethren (never heard of them, either). Guys, do you support this schiff? If not, seems like a few firings are in order.
Does "higher education" teach anything but racial fear and hatred anymore?
Why?
Not that I expect an answer.