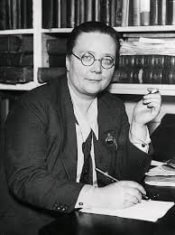 Dorothy L. Sayers, best known as one of the best mystery novelists of all time, was at one time in her career called upon to defend Christian writers in Britain in particular, and Christianity in general, from blistering attacks by atheists. Yes, they were doing it back then, too–in the 1950s. You know: after God raised up Winston Churchill to deliver Britain from an enemy that was stronger than she. But they proved no more thankful to Churchill than they were to God.
In 1953 one Kathleen Nott published a book critical of Sayers and other Christian writers. How did Sayers answer it? Like so:
"No one can say that 'the Church' as a whole has ever stood for truth and… charity.
"Well, the church does in fact lay a good deal of stress, not only [on] truth, but on love and charity… But it is no use talking as though love and charity were easy. You cannot buy them in the market and slap them on a situation like plasters [band-aids]. If Miss Nott were here now, she and I could establish the Kingdom of Heaven between ourselves immediately–that is, we could if we could. It is quite simple: she has only to love me as well as she loves herself, and I have only to love her as well as I love myself, and there is the Kingdom. It is as simple as that–but would it be easy? Acknowledging myself to be worm-eaten with original sin, I acknowledge that I might find it difficult; and although Miss Nott is presumably without sin (since she does not admit the existence of sinfulness), it is conceivable that for one reason or another she also might encounter a little difficulty. Yet it would be useless for her to protest that one cannot love an unlovable object, since charity is precisely a readiness to love the unlovable. That is the trouble with the Christian graces–that without Grace they are impossible."
[From Dorothy and Jack, by Gina Dalfonzo, Baker Books, 2020–a wonderful book about the friendship of Dorothy L. Sayers and C.S. Lewis]
Works of the flesh are relatively easy. Works of the spirit are hard. But we have a God whose own Spirit works in us that grace may abound. Works of the flesh do not build the Kingdom of Heaven, but works of the spirit do.