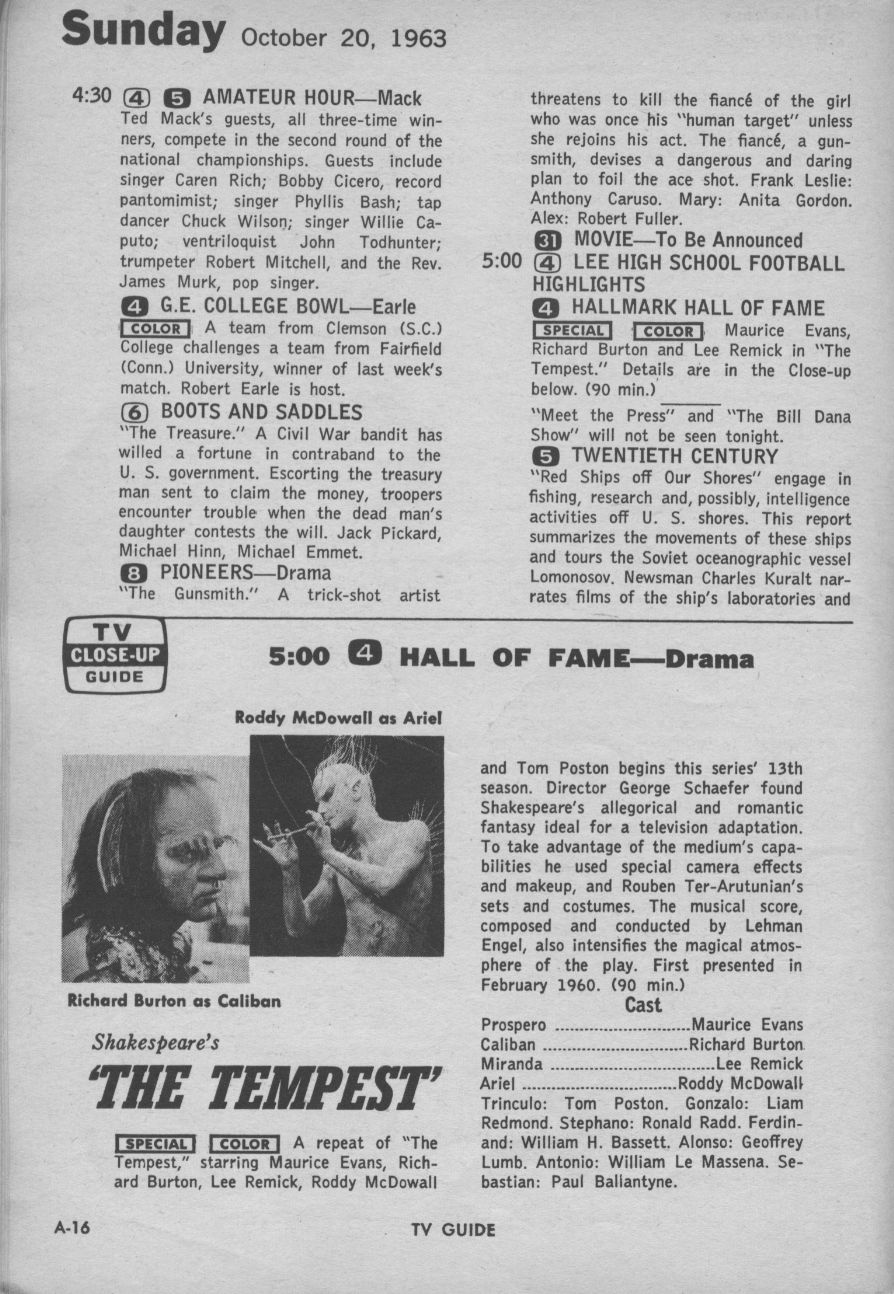 G'day! Byron the Quokka here, with another weekend of indescribably wonderful TV brought to you by Quokka University.
Warning: See that ad for "The Tempest"? That was first broadcast in 1960, when a certain 11-year-old saw it and came down with a crush on Lee Remick, who played Whatsername.
Right! Here are a few samples. And remember, I have nothing to do with it!
7:25 P.M.  Ch. 3  FAST NEWS
Speed-reader Burt Fomble whizzes through 50 minutes' worth of news in just five minutes! With Bernie Madoff and his orchestra.
7:30  Ch. 4  BET EVERYTHING!–Game Show
Contestants either come out rich beyond anything they ever imagined possible, or totally destitute, having lost literally everything–right down to the shirts off their backs! House, car, wedding ring–all gone. Host: Vincent Price.
Ch. 6  MOVIE–EXOTIC WESTERN
"Truth Is Stranger Than Friction" (1956) is the first Western set on the planet Mars. The Bowery Boys form a posse to try to catch a stage robber whose Martian physiology allowed him to engulf a whole stagecoach like a gigantic amoeba. Leo Gorcey, Huntz Hall. Professor Fancy Feast: Prince Souvanna Phouma. Dr. Won Hong Lo: Gustav Svenson. Little Mary: Edith Wharton.
Ch. 12  LOST IN THE PYRAMID–ARCHAEOLOGY GAME SHOW
Can you find your way out of the pyramid without getting caught in one of its lethal booby traps? Without getting locked up in the mummy's tomb? If you can, there's a set of El Supremo Quality European Luggage waiting for you on the outside! Closed-circuit TV cameras track the fun. Host: Eli Whitney. Innovative sound track: Supremes hits played backwards.
8 P.M.  Ch. 13  VINNIE PONG–INTERVIEWS
Often described as the worst TV show ever, host Vinnie Pong interviews a succession of guests who are all much smarter than he is but have to wait for the questions because of Vinnie getting tongue-tied–to say nothing of asking one guest questions that were prepared for another. Co-host Carolyn Snort has to be restrained from assaulting the guests. No wonder Greta Thunberg threw a tantrum on the set!
Well, there you have it–a small sample of the delights awaiting you on Quokka U. TV. If you get hooked on it, don't say I didn't warn you.