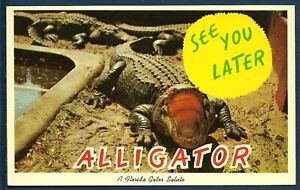 And if prison doesn't work, throw 'em to the gators!
Florida has become the first state to give citizens the right to sue Big Tech for up to $100,000 in damages if they are deplatformed, censored, or banned (https://thefederalist.com/2021/05/24/desantis-signs-law-to-curb-big-tech-censorship-and-punish-partisan-deplatforming/).
(Calloo, callay, oh frabjous day!)
The new law also allows Florida's attorney general to prosecute Big Tech companies for antitrust violations.
And finally, it prohibits the tech giants from removing any Florida politician from any of the social media platforms. You know–like the way Twitter banned President Trump.
Florida decided not to wait for Congress to take action. That was a wise decision.
We hope plenty of other states do the same.
And if the fines aren't big enough to hurt… well, there's always prison.