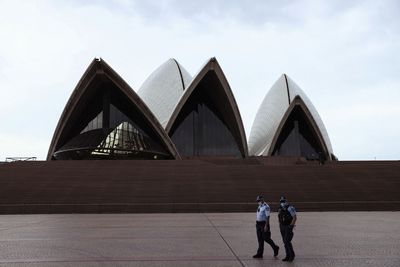 Looks like no one's going to the opera house.
Gasp! Australia, population 25 million-plus, just topped 100,000 "cases" of COVID, whatever a "case" is. That means 1 out of 250 people is a "case."
Well, the government of New South Wales has some more stern measures in mind. They plan to "gradually" restore lost freedoms, Oct. 11-Dec. 1–but only for those who've been "vaccinated" (https://news.trust.org/item/20210928025122-5mqe6). [I put "vaccinated" in quotes because this is an experimental drug different from traditional vaccines.]
If you're not "vaccinated," warns the premier, you're going to have "a difficult life" and suffer permanent "social isolation" even after the lockdowns are over. And they're going to get the private sector to enforce it for them. That'll fix you! By exercising ordinary common-sense prudence in the midst of pandemonium, you have become an Enemy of the People, like, forever.
How shallow are the roots of liberty! How easily uprooted is the tree! All it took was one new disease–very possibly brewed up by Communist China on purpose–with a survival rate of over 99%, to stampede the nations of the Western world into the corrals built for them by a globalist elite.
See how easily we surrender the liberties that our fathers and grandfathers fought for, died for, bled for. ("Yeahbut, yeahbut! They gave me a donut!")
We can only pray that God will intervene, and save us.