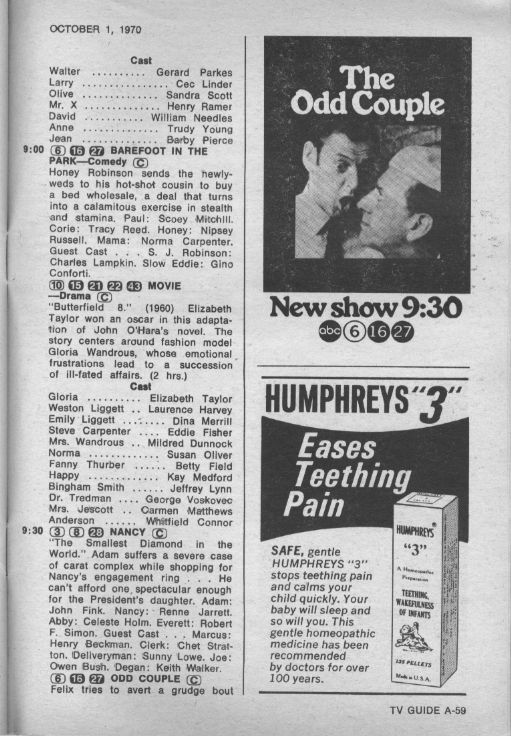 G'day, mates! Byron the Quokka here. Welcome to another weekend of fantastic TV viewing brought to you by Quokka University. We seem to have missed our deadline for offering courses, but never mind–TV's more fun. Here's a brief sample of what we've got lined up for you.
9:00 P.M.   Ch. 08   SCHMOE FOR A DAY–Game Show
Patterned after the classic "Queen for a Day," the contestant who tells the most horrible sob story gets to be Schmoe For A Day, complete with propeller hat. Last week's schmoe, the guy with all the leeches in his swimming pool, tonight defends his title against a pitiful old lady who has a monster living in her kitchen sink. Host: A former Turkish politician concealing his identity.
Ch. 12   MY FRIEND FRANCO–Sitcom
The ghost of the former Spanish dictator (Bill Dana) haunts Debbi DuBuque (Capucine)–but he's awfully good at solving her boyfriend problems! This week: Can the Generalissimo engineer a fatal accident for Chester (Dennis Weaver) without the police getting involved? Officer Mike: Ed McMahon.
9:14 P.M.  Ch. 02  SPEAK GERMAN WITH A THICK CHINESE ACCENT!–Educational
Instructor Fong Hsueh-ting can teach you virtually incomprehensible language dialects, puzzling even to persons who regularly speak them. Are you tired of people understanding what you say? Dr. Fong can fix that! Featuring the June Taylor Dancers. Song: "Du Gwangst Mihr Hsiao Gebleben."
9:30 P.M.  Ch. 16  GNUSMOKE–African Western
Imagine James Arness' confusion when he showed up for work in his U.S. Marshal's costume only to find himself cast as a game warden in East Africa! Gotta read those contracts more carefully, Jimbo! This show was briefly famous for the friction between Arness and his co-star, Liberace–and cancelled after Liberace pushed Arness into the crocodile tank! With Gorilla Monsoon and his orchestra.
Ch. 48   EL BORRACHO!–Western/Romance
Who's that tireless fighter for justice who keeps walking into the wall instead of out the door? It's "El Borracho" (Frank Botox), feared by bad guys from Paraguay to Oman, or wherever else he winds up. Nancy Kwolvczek plays "Dona Pupitre," El Borracho's lady love. This week: Sgt. Fernandez (Jackie Chan) thinks he has evidence that will send El Borracho to the gallows. If they can find the gallows.
Well, there you go! Is that great TV, or what? Grab a eucalyptus leave and settle down! We are gonna see magic!