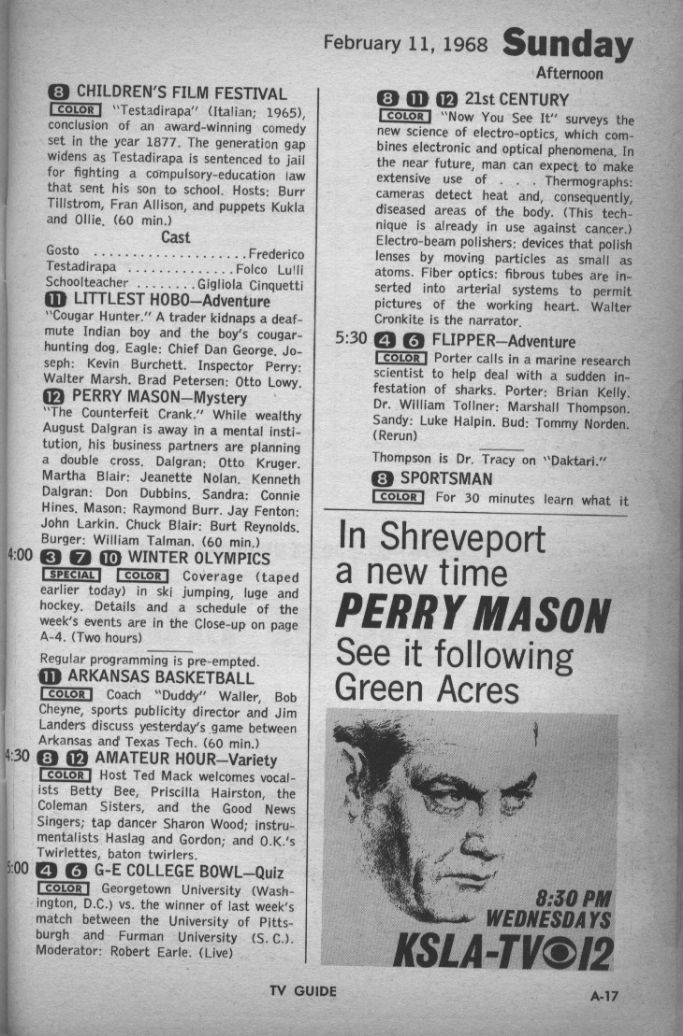 Happy Day Before Halloween! Byron the Quokka here, for Quokka University and another weekend's worth of indescribable TV! Actually, I have to try to describe it. So here goes–and you'll notice the whole menu is Halloween-themed.
7:30 P.M.  Ch. 08  HAUNT YOUR HOUSE!–Home Improvement (?)
Host Alger Hiss (a nom de plume–after about 15 minutes you'll figure out who he really is) knows 1,001 ways to attract malignant spiritual entities to your house so that you can live with unexplained mysteries! This week: "Horrible Things That Can Come Out of Your Tea-pot When You Pour Your Tea."
Ch. 12  MOVIE–Horror
In Mothman vs. Reddy Kilowatt (1968), enraged Mothman (Don Knotts) battles a supercharged Reddy Kilowatt (Howard Duff)–and caught in the middle, the June Taylor Dancers. Can they keep dancing while the town is razed around them? The Singing Editor: Irene Ryan.
7:42 P.M.  Ch. 03  DOCUMENTARY
Head-hunters of Darkest Kansas followed the Miskatonic University expedition to Kravchenko Korners, Kansas, in search of a legendary tribe of Pennsylvania-Dutch head-hunters. Featured interviews: Louise Lasser, Jerry the Talking Squid. With Chiang Kai-shek and his orchestra.
8 P.M.  Ch. 64  2021 SPRING FASHION SHOW–Fashion
It's the Gucci Spring Fashion Show from–I don't know: Mordor, I guess. We couldn't find anything scarier! The models look like failed auditions for Night of the Living Dead, and the fashions themselves, you wouldn't want to be buried in them. I'll bet the emcee is an uncaught serial murderer.
8:30 P.M.  Ch. 16  MOVIE–Unbearable horror and suspense
Supermodel Polly Feemus stars in this 1970 remake of the Manchurian film noir/horror classic, One-Eyed Jacks. Teens check in to Cyclops High School, but never check out! Kept in high school till you die of old age: Can a perky 52-year-old sophomore (Feemus) rally the one-eyed students to tunnel their way out? Principal: Clyde Beatty. Don't miss Lon Chaney Jr. as Biffo, the 89-year-old quarterback of the football team.
Well, there you have it! I will close with an appropriate Halloween farewell.