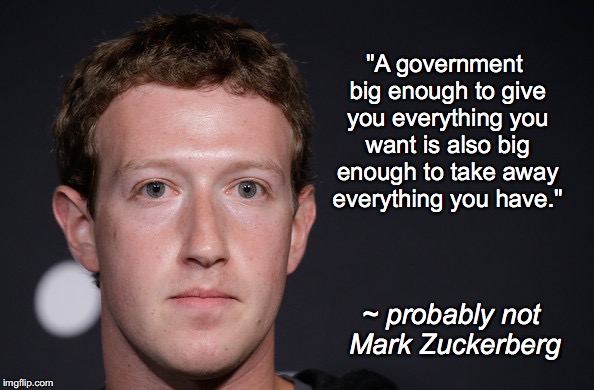 In Nothing Studies you learn that "Wet wood burns the best." Has Facebook CEO Mark Zuckerberg got a degree in Nothing Studies?
In the wake of the Christchurch, New Zealand, massacre, and the governments of New Zealand and Australia threatening to clamp down on social media content, Zuckerberg has called for "more active" government regulation of all social media, including Facebook (https://www.thesun.co.uk/tech/8756876/mark-zuckerberg-social-network-regulation-christchurch-watchdog/).
Ya see, more regulation means more freedom. Somehow. And Zuckerberg only wants government to come down on "harmful content"–wonder who gets to decide what content is harmful–"election integrity" (so The Russians can't steal another one from another anointed Democrat candidate), privacy (they just can't help themselves, when it comes to collecting and selling users' private information!), and "data portability," whatever that is. One can almost hear Sessue Hayakawa telling Alec Guinness, "Be happy in your work."
Meaning, the government in the United Kingdom has promised to stifle Twitter and Instagram if they don't consent to stricter regulation.
No one has asked this question: Is government any more fit to regulate the social media than the social media themselves? Is it any more honest, any more wise, any more benevolent? Do the personnel of government even obey the government's own laws–or just ignore or circumvent them every time?
Freedom is not natural to sinners living in a fallen world. God has given us laws which, if followed, would bless us with both liberty and security. The world hates God's laws and refuses to abide by them. The state of the world is testimony to how good an idea that is.
There is an important role for civil government in God's scheme of things–to keep the peace, to protect us from those who would do us harm, and to punish evildoers (see Romans Chapter 13). In our Constitution, powers not specifically granted to the central government are reserved to the states and to the people.
You won't find today's theories of government in either the Bible or the Constitution.