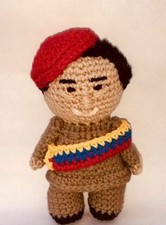 Our Collidge it hased for A "long" time this heer "no good" Racist Maskott i think it was sposed "to be" a big Bugg and we caled our "teem" The Fihghting Lowcusts"" witch i nevver Under-stoood butt anyhow "it" was Racist so we hadded "To" get ridd "of" "it"!!
We hasnt got no more Teems becose "of" the Vyris and our teems thay all stinked annyway but we Stil kneed anether Maskott to re-plaice the Big Bugg so we hadded a Spatial Meating "of" the Stoodint Soviet twoday and gess wahtt?!? We commed up whith a branned New Maskott and that thare is his pictcher up Thare!!!!
Our new Maskott it is Hue-go Chavvez,:, it Was him whoo ternt Valenzuela intoo a Whirkers Parradice!!!!!!!!!! So fromb nhow On we wil caul Our Teems The Hue-go Chavvez Socile Jutstus Wirers Fihghting Fore "The" Whirkers!!!!!! Haow "is" Thatt for a Maskott?!?!
Butt naow we got to has New Teems and we doughnt whant "no" Racist or Sexist or By-Nary teems neether and evry boddy thay got Tired of whatching us looze at Foot Bawl and Swimbing and Hoola Hoooping and thay whant Teems of Sporets that we "are" good At!! Somb Boddy thay hadded a Idear fore Sincronyzed Crying and that sownded Pretty good!!!! and aslo a Play-Doh teem becose somb "of" us we "are" Exprats at that!!!
I cann jist heer the chears nhow!! "Go Go Hue-go Chavvez Socile Jutstus Wirers Fighting Fore The Wherkers Go-Go-Go Yeeeaaaah!!!!" And whith Non-By-Nary chearleeders tooo!!!