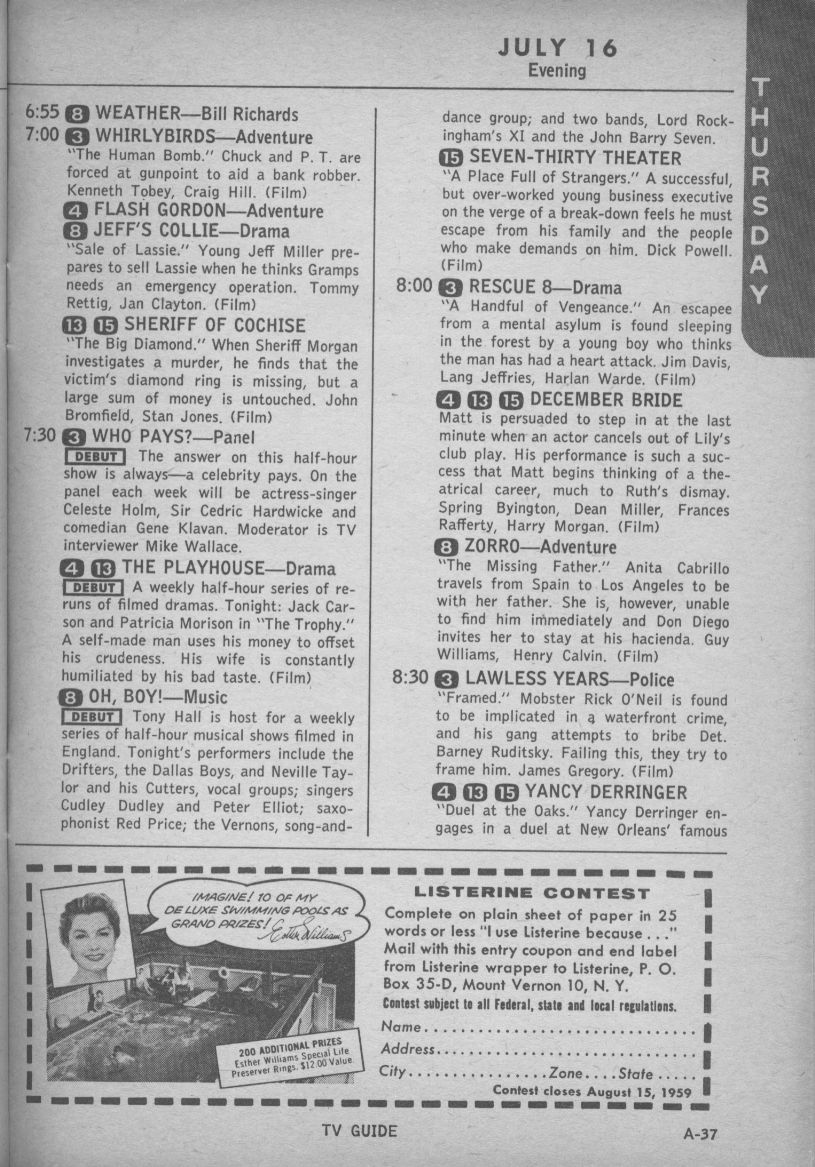 G'day! Byron the Quokka here, on Rottnest Island. I hear a lot of you Yanks have been snowed in, can't get out and have fun. Well, it looks like I'm here with more TV listings just in time! We don't want you going mad with cabin fever, do we?
So here are the Quokka University Broadcast System's (see? we've got a name for it now) offerings for this weekend. Happy viewing, everybody!
8 p.m.   03  MY MOTHER THE NEWT (Sitcom) Harry and Debbie get kicked off their middle school band when Mr. Roomba discovers their mother is a giant newt. Can Uncle Beefy, a rather large frog, save the day? Mr. Roomba: Ricardo Montalban. Uncle Beefy: Dick Cavett.
05  NEWS WITH RUDE NOISES  (News and Weather)  The same news you got on all the other channels, but this time with crude and impolite noises in the background. Anchorman's identity still unknown.
8:10 P.M.  05  MOVIE OF THE MILLENIUM  "I Hear Earwigs Singing" (1971)  The Bowery Boys take on a mad grocer (Colin Clive) who has been flouting London's health codes–in Yuma, Arizona. Leo Gorcey, Huntz Hall, Chou En-lai. Special guest appearance by Elias Howe, inventor of the sewing machine.
8:39 P.M.  04  TRAGEDY PLAYHOUSE  (Drama) "When You Lose That Beat" combines Oedipus Rex with Mutual of Omaha's Wild Kingdom for a totally incomprehensible waste of 93 minutes. Guaranteed to impress your friends and family, if you say you watched the whole thing. Oedipus: Rory Calhoun. Marlon Perkins: himself. Music by Bobby Fischer and his Orchestra.
8:45 P.M.  07, 11, 13  SLUGGO POTASH, GUNSLINGER!  (Western, as if you didn't know)  In "Duel at the Lost City of the Poptecs," Sluggo (Darren McGavin) must shoot it out with his arch-enemy, Mitch McConnell, who has made himself dictator of a lost city inhabited by people no one ever heard of. King Axolotl: Jon Hall. Princess Chipotle: Joey Heatherton. High Priest: Soupy Sales.
Well, that's enough for now! I still don't know how we got our hands–I mean our paws–on all these shows, and I'm sure I don't want to.