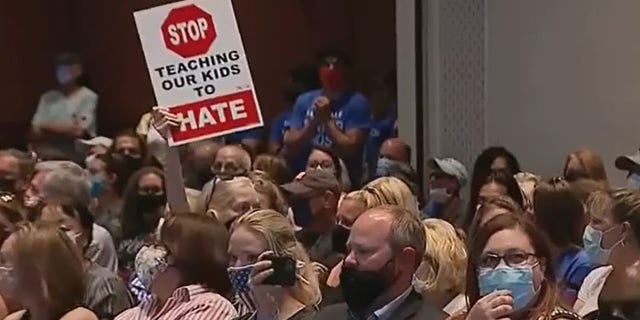 "Critical Race Theory," the doctrine that all white people are born guilty of racism, blah-blah, has awakened public anger all across America–even in leftid bastions like Loudon County, Virginia.
At a recent school board meeting, some 200 parents showed up to protest CRT–passionately. The board cut the meeting off and two parents, one of whom was black, were arrested (https://www.newsweek.com/virginia-school-board-hearing-critical-race-theory-turns-chaotic-two-arrested-1603500).
Guess what? White and blacks both hate CRT! We can build on that.
The Superintendent of Schools swears CRT is not in Loudon's school curriculum and that there are "no plans" to put it in.
Honk if you trust him.
I knew a high school where the "sex education" textbooks were not allowed to be brought out of the classroom, lest a parent should find out what was being taught. So I know that "school officials" like to slip bad stuff under the door when no one's looking.
P.S.–Note Newsweek's attempt to sell readers a bland and totally misleading definition of CRT. Hey, sunshine! It's all about hate. CRT teaches children to hate themselves, hate each other, hate their families, and hate their country.
That's why fervent opposition to it is very nearly universal.
I hope Democrats keep trying to defend it. It'll look great on the Party's tombstone.