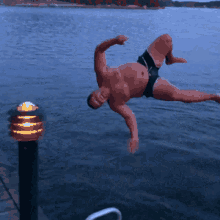 You won't have seen this on TV, because they've hushed it up.
Olympic high diver Randolph Wibble, USA, tried to cheat by having a computer chip implanted in his brain. The computer would control his dive, guaranteeing a perfect dive every time. Gold medal, here we come.
But just as Wibble began his leap from the diving platform, the computer decided it was time for an update and left poor Randy in the lurch. With no computer guidance, his dive was an embarrassing disaster… which an alert sportswriter immediately dubbed, "Wibble's Wobble." Honestly, a sackful of bricks would've done a better dive. Judges awarded him 0 points out of 10.
The impact of the water affected the computer in another way.
Randolph Wibble now talks backwards.