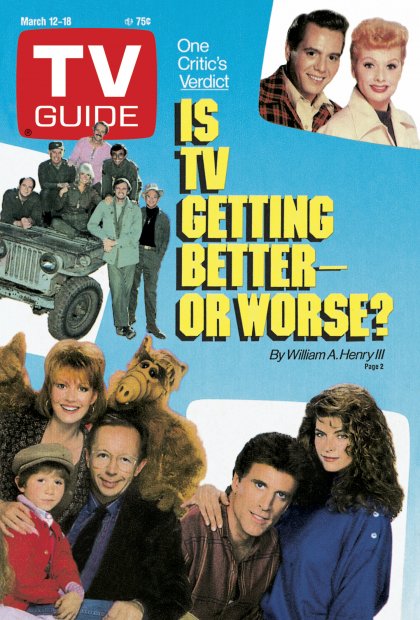 {I couldn't resist this TV Guide cover. This was the question that drove the Sphinx to jump off the cliff.)
G'day, boys 'n' gulls! Byron the Quokka here, with your TV menu for the weekend. Best shows that were ever on the air! Like these–
7 P.M.   Ch. 33  BLANDED!–Dyslexic Western
Kevin Gupta stars as Jason Mason, drummed out of the U.S. Cavalry for mixing up his R's and L's. You can't say "It was a gland palade" and get away with it. This week: "Plobrems with the Erection." Genelar Glant: Petel Fark.
Ch. 61  61 MINUTES: THIS IS NEWS–No, it's not
Co-anchors Popeye Schmidt and Fanny Vavoom lead a news team whose every member has had to be rescued from getting lost in small suburban parks. Sports anchor Wes Shambler got lost in his own living room! Tonight: Interview with presidential hopeful Ozzie Schlubb.
7:30 P.M.  Ch. 08   HOLD YOUR BREATH–Game show
How long can these contestants stay under water? Host Doc Swivvle asks the questions that must be answered correctly before you're allowed a breath of air. ("What is the sound of one hand clapping?" gets 'em every time.) Special guest: This really cool guy we met somewhere.
8 P.M.  Ch. 42  THE DANCING DETECTIVES–Musical crime drama
The June Taylor Dancers star as the Detective Division of the Pinchy Corners, NJ, Police Dept.–and dance their way to the solution of the crime! This week: The old Batman villains scheme to throw the Dancers out of rhythm and trick them into dancing into a particularly nasty mud puddle. See if you can guess which villain is being played by Mary Stupid!
There–if that doesn't rake in the viewers, I don't know what will.
Here's me trying out for the June Taylor Dancers!
P.S., to Those Who Have Advised Me to Relax: That's just what I'm gonna do right now, for the rest of the day.