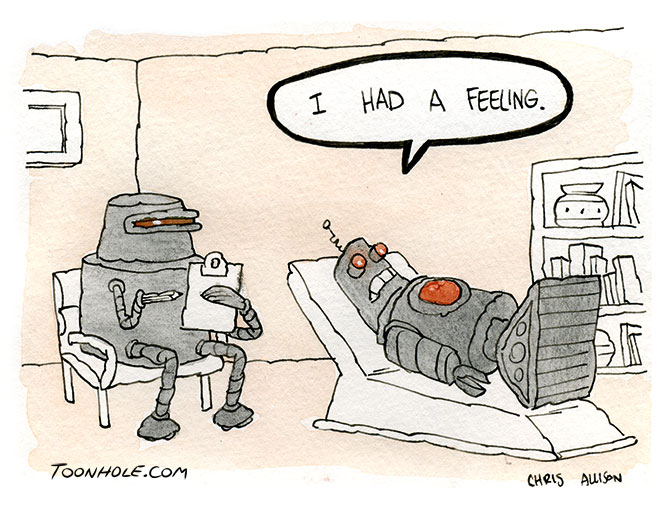 In Genesis, God observes that "It is not good for the man to be alone," so He creates the woman.
Today, this first day of 2018, with Social Media out the wazoo and more communications tools than any people ever had before, we seem to be communicating less than ever–and more and more of us are lonely.
No problem, boys 'n' girls! Science has the answer! Well, Science always has the answers.
There's a new app, whatever an "app" is, called "Replica," which is "a simple solution to overcoming loneliness" (http://www.cbc.ca/news/technology/artificial-intelligence-app-replika-1.4222755). Yessireebob, it's "an app that promised to provide unwavering companionship," a "chatbot–" chatbot?–"that is intent–" wrong word: a machine cannot have intentions–"on learning all about you." That is, it has been programmed to "ask," not that a machine is really asking anything, certain stereotypical questions of the user and to make certain stereotypical replies.
Well, at least they haven't programed it to say, "You know something? You disgust me!"
Ah, huzzah, it's Artificial Intelligence–a lifeless, mindless imitation of human intelligence–come to save us from loneliness! Who needs love? Who needs family? Who needs friendship? Who even needs a blooming hamster? This here machine is all them things and more! And it fits in the palm of your hand!
Never mind it isn't real.
A goldfish who would trust me enough to take food from my fingers is real–and worth more than all the "apps" in the world.
So you buy this freakin' gizmo, and one of two outcomes must occur. Either you're still lonely, and out the money, to boot; or you've succumbed to a delusion.
And Science marches on.