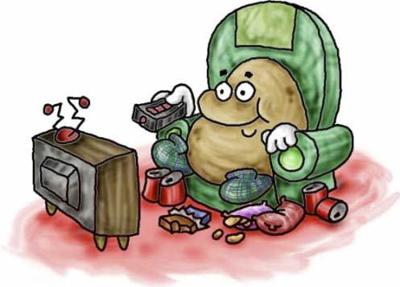 I find myself puzzled by how tame and flaccid–with a few dramatic exceptions, notably the election of Donald Trump as president–the American people show themselves in the face of brazen campaigns to tear down our culture and turn our country into, well, God knows what.
Does it have anything to do with millions and millions of people thoughtlessly consuming a popular culture that never seems to run out of disgusting innovations? What we like to call our "entertainment"?
Bad enough that public education, owned and operated by the Far Left Crazy teachers' unions, education theorists, and all sorts of academics a few fries short of a happy meal, force-feeds whole generations of Americans with non-stop lessons in socialism, sexual hyperactivity, self-hatred, and cultivated ignorance. Beyond the schools, the people continue on a lifelong course of passive self-education in the form of "entertainment."
Can this be why our national politics is increasingly characterized by mob rule, censorship, a raging hatred of any opposition, bizarre court rulings, and speeches made, and policies proposed, that would have been unthinkable, not so long ago? Why people have come out of the woodwork, and taken charge, who would have been very small and quiet, once upon a time?
You know I always say, kill the culture and the culture will kill you back. I think I see that happening now, in our politics. Open borders, transgender "rights"–ideas that are dangerously preposterous, that can't possibly do anything but hurt us, are routinely offered to us today as a new normal.
Most of us have noticed that the Left–that is, the Democrat Mob Rule Party–is getting crazier and crazier, more and more extravagant in its fantasies, more violent in its tactics, and less and less inhibited in what it will do to get back into power.
Are we truly becoming the kind of people who accept this?
If we are, a great deal of effort has been expended in making us so.