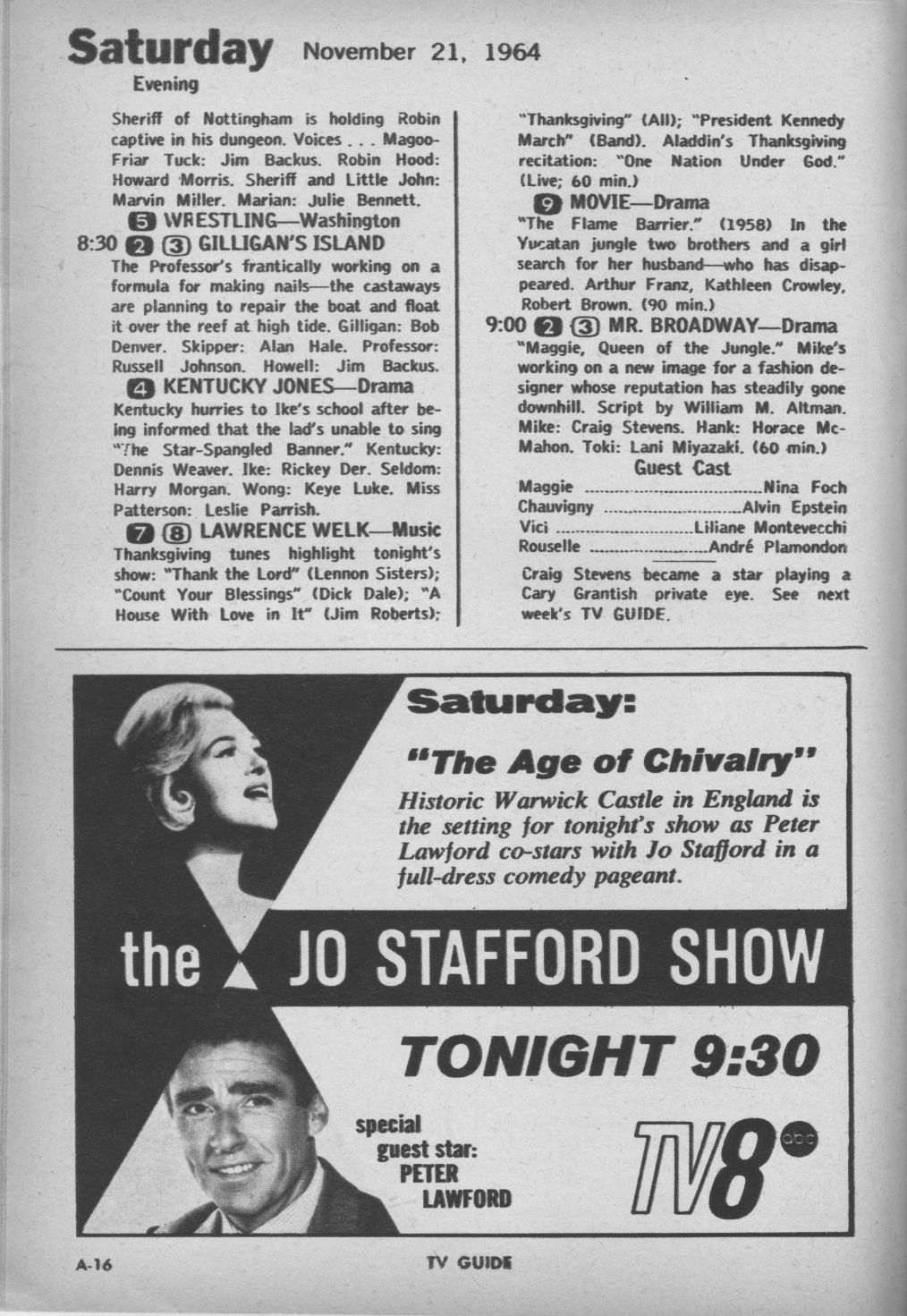 G'day! Byron the Quokka here, with fantastic weekend television brought to you by Quokka University… where all we do, really, is hunt up rare TV shows, never mind teaching courses. Anyhow, here are some samples:
6:30 P.M.  Ch. 08  SLAPSTICK NEWS–A news show, sort of
Finally! You don't have to sit there growling and fuming as the news anchor talks down to you and tells lies. Here, the anchormen and anchorwomen stand a good chance of getting a pie in the face! You'll know who it's going to be, but the victim won't. Dan Rather, Walter Cronkite, Paula Zahn–splat! Take that, motormouth!
Ch. 14  BACKYARD SAFARI–For children and goofy adults
Who needs rhinos and lions and giraffes when you've got ants, aphids, and starlings? It's a lot cheaper, too! Join great white hunter Abe Vigoda as he sidesteps a charging ground beetle and bags an earthworm with his shotgun Celebrity guest: Sandra Day O'Connor. Bearer: Yogi Bearer (get it?).
6:45 P.M.  Ch. 29  FOREIGN MOVIES IN FOREIGN LANGUAGES–Pretentious twaddle
Impress your friends! Watch Bergman's Wild Strawberries in the original Swedish, no subtitles, no dubbing, and say things like "Some of the subtler nuances don't translate all that well." Do the same with Akira Kurosawa's The Hidden Fortress and they'll gasp in awe! Host: Marcel Marceau.
7 P.M.  Ch. 12  SERPENT PEOPLE OF VALUSIA–Sitcom
Hanky (Andre the Giant) wants a tricycle for his birthday, but Mozgush and Doblast (Arthur C. Clarke, Sonja Henie) have already bought him a king-sized hamster wheel. Uncle Hisstah (Frank Botox) is called in to make peace! Provider of Superfluous Exclamation Points: Joyce Carol Oates.
7:04 P.M. Ch. 42  SAGEBRUSH SAM–Underwater Western
People didn't dig this when it came out in 1964, but Sagebrush Sam, TV's first underwater Western, is now arguably the most popular show in television history. This week: Can Marshal Dan Schimmelpfennig (Don Adams) hold his breath long enough to burst into the Sea Horse Saloon and arrest manic gunslinger Nijam Mohandalakshiraj (Richard Simmons) for copyright infringement? Can he hold his breath long enough to say the name? Sparky: Shari Lewis. The June Taylor Dancers: The Elvira Pushcart Dancers.
Boy, oh, boy! I can't wait to hunker down in front of my TV set with a handful of tasty leaves and bubble gum!
This looks like a good one. See you next week!