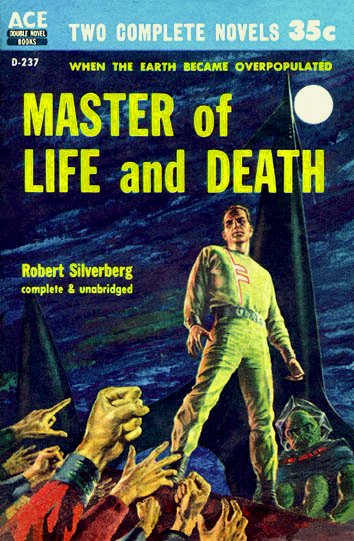 Ah, those were the days! "Two Complete Novels 35 cents"–remember those, the Ace Double Novels?
One of them that I do remember is Master of Life and Death by Robert Silverberg, a 1957 Ace Double Novel that was teamed up with The Secret Visitors by James White, which I don't remember at all. I find it hard to believe I read this when I was only eight years old, but I don't think I could have read it any later than 1959.
In this tale, Silverberg imagined a world overpopulation crisis in the year 2232–7 billion people on the planet (which we have already, in 2019, without a crisis) and the United Nations world government has to take really serious action! Otherwise we're all gonna die, etc. Where have we heard that before? So they set up a Bureau of Population Equalization, complete with euthanasia and forcibly relocating people to less densely-populated areas, etc., and the protagonist becomes head of "Popeek," as the Bureau is affectionately known, and inherits one helluva mess. Including a crisis on Venus, an embassy from another planet in another solar system, and an awful lot of angry people who want a piece of him.
What I remember most is being appalled, even at such an early age, by the whole idea of any government having this much power. Almost every science fiction novel I've ever read presupposes a world government, like it's carved in stone, totally inevitable, better learn to like it. Now I wonder why. What is it about science fiction that gravitates to world government?
I used to read science fiction for fun, but now, looking back on it, I see it was filled with a lot of ideas that were either creepy, somewhat less than intelligent, or downright preposterous–or some combination of the above.
The Ace Double Novels are history, but we still have plenty of science fiction movies that are every bit as fat-headed as Ace's very worst efforts.