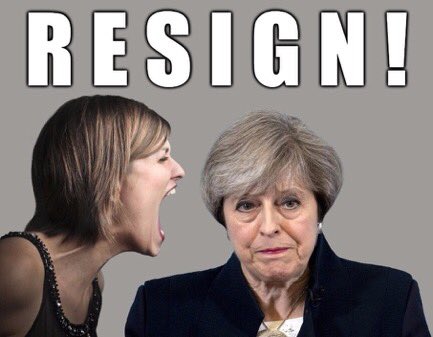 I think she heard that.
It's hard for an American to make much sense of British politics; but for what it's worth, Prime Minister Theresa May has resigned, effective June 7, they're gonna need a new one, they still haven't figured out exactly how they're supposed to secede from the European Union–and assorted UK politicians are clamoring for a "second referendum" on leaving the E.U. (https://www.breitbart.com/europe/2019/05/28/labour-diane-abbott-calls-second-referendum/)
They didn't like the way the first one turned out.
Meanwhile, in the E.U. elections just concluded, the "Brexit Party" won big in Britain. Any  indication that the government is serious about a do-over is sure to raise hell. The Labour Party of course wants one, but we are told that there's a major conflict over that within Labour's ranks.
You think we have trouble with just two political parties. The Brits have a whole raft of them.
The problem is that when they held the first referendum, "Remain" was supposed to win–sort of like Hillary Clinton was supposed to win here, in 2016–so the globalists never bothered to draw up a workable plan to carry out the people's wishes if they voted to leave the E.U. But they did. And one wonders whether the government ever had any intention of abiding by the result of the referendum. Globalists don't much care for referendums that don't go their way.
In fact, throughout Europe, the globalists fared very badly in the elections, with patriotic national parties regaining lost ground–enough so that the Red Pope is calling everybody racists and biggits for wanting to preserve their own countries. How would he fare, do you think, if they held a referendum on his papacy?
There is only one Person who has the right to govern the world, and that is Jesus Christ. Until He sets His throne upon the earth, God has given us nations as a protection against any power-mad cabal that seeks to dominate the whole shebang. A world government would be a global tyranny.