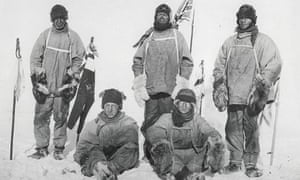 Scott's polar party: they all died.
Certain episodes of history teach moral lessons. We are fools if we ignore them.
Like this one, for instance:
In 1912, racing to be first to the South Pole, Capt. R.F. Scott did everything wrong: any one of his wrong decisions could have turned out to be fatal. With so many wrong decisions, his party had no chance of coming back alive.
It was as if Scott were trying to wish his way to the pole.
Our world leaders–and their followers!–are guilty of the same. "No more gender! No more inequality! No more hate!" Blah-blah-blah! As if they can shape the world!
No, sunshine, you can't. You're not big enough. You're not wise enough. All you know how to do is screw it up.
Because heck, after all, wow! Anything is better than submitting to God! And obeying His laws.
Or so they think.