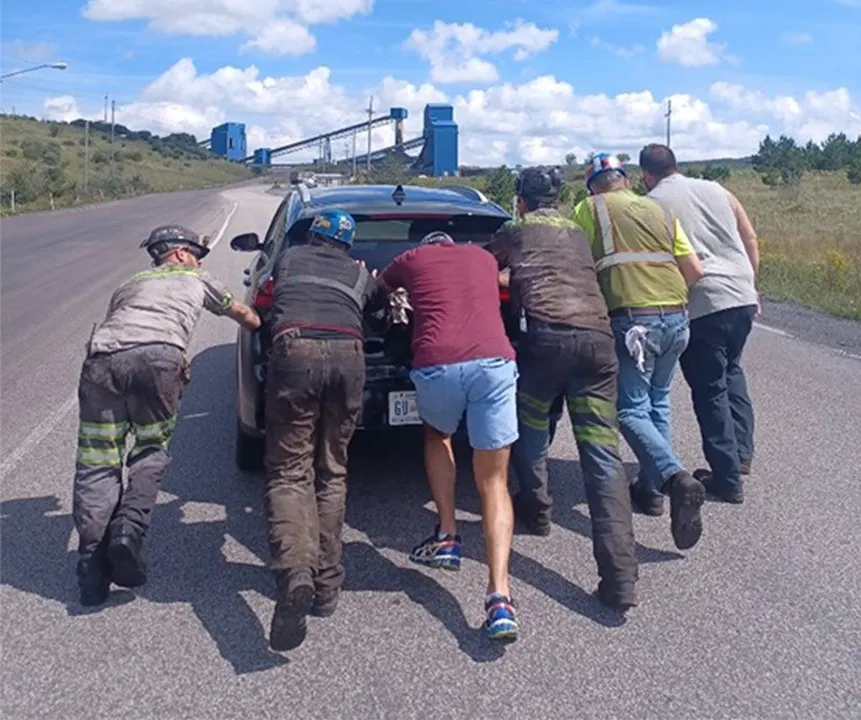 Say hey! How do you run your electric car when you can't get it recharged? Like, if you live in California and there's no electricity available.
Well, you do the environmentally sustainable, real Green New Deal thing–you push it!
A tourist in West Virginia recently suffered an electric car conk-out… and half a dozen coal miners pushed it to the mine to get recharged (https://www.foxbusiness.com/technology/west-virginia-coal-miners-help-tourists-push-dead-electric-car).
But why get it recharged at all? You're missing a bet here, Greenies! What could be more environmentally sustainable than pushing the car? Not only that: if cars were all to be pushed, at, say, two miles per hour, think of the effect on highway safety! No more fatal accidents! I'm telling you, this is even better than having your solar panels underground. And if you had enough people to do it, you could also push buses, trucks, and even trains! Airplanes might be a problem, though. And ships.
Imagine all the cars in America, powered currently by gasoline or electricity, getting pusedh along–no pollution! No five-car pile-ups!
Or we could just, like, go nowhere anymore…
(P.S.–They couldn't tow the car because the electric cars have plastic undersides that fall apart if you tow them.)