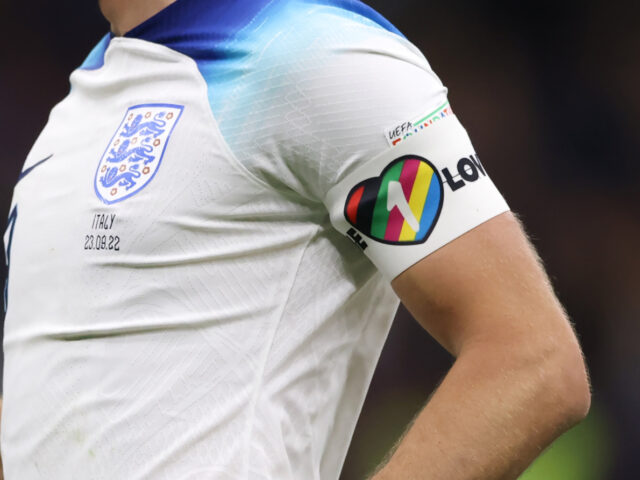 They don't dig this in Qatar!
Leftids are throwing a world-wide hissy fit over Qatar's decision not to allow "gay" armbands to be worn by athletes competing for the World Cup… which is being held in Qatar this year (https://www.breitbart.com/europe/2022/11/21/woke-west-backs-down-european-teams-will-not-wear-pro-lgbt-armbands-at-islamist-qatars-world-cup/).
Soccer's governing body, FIFA, has asked the teams to go along with Qatar, and so far seven national teams have announced they won't be wearing "gay" gear after all: England, Wales, Belgium, Denmark, Germany, the Netherlands, and Switzerland.
The armbands bear the slogan, "One Love." This offensive shibboleth puts all forms of "love" on the same moral plane. Shame on you if you believe that.
Notice the astonishing speed with which Qatar was transformed from just another Muslim country to an "Islamist" state. "Muslim" okay, "Islamist" bad. Hey, European nitwits! Did you really, truly think that Muslims were going to go along with you in "celebrating" sodomy? And what the dickens happened to your passion for "diversity"? Oh, no–not that kind of diversity! I mean, Muslims taking Islam seriously–it oughta be a hate crime!
When they were planning to stage the World Cup in Qatar, what did they think would happen? Like, everybody in Qatar would forget they were Muslims until after the tournament?
It's too, too much! They were going to allow beer to be sold to the infidels in the stands, but now they've changed their minds about that: Muslims in Qatar disapprove of alcoholic beverages.
Hey, what're you chipmunks going to do when you finally decide to set up a global government? You gonna tell the Muslims they've gotta "celebrate diversity" by being exactly like Western Europe? I don't think they'll be buyin' in.
There are many ways to start a major war. This might be one of them.