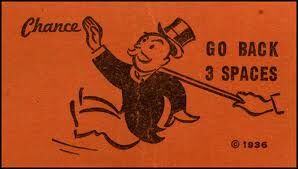 Liberals are still crying crocodile tears over "Income Inequality." Thanks to Income Inequality, blubbered the New York Times recently, you'll never be able to drink the great wines.
Well, obviously what they want is "Income Equality"–everybody has the same income. Right then and there you know it's poop. But if there were such thing as Income Equality, how would society achieve it? Always presuming the whole thing wouldn't blow up into a war of all against all before the train even left the station. But in the absence of near-instantaneous chaos, how would you achieve Income Equality?
*Take money from The Rich and redistribute it. [Four-minute laugh break] If you think anyone will ever get their hands on any of Al Gore's, the Clintons', John Kerry's, or Hollywood's money, you are without brain function.
*Ask the super-rich (see above) to give away big chunks of their money to The Poor. Yeah, that'll work.
When does my income get to equal Nancy Pelosi's?
*Ooh-ooh! Simply print up lots and lots more money and hand it out to people until everyone's a millionaire! And watch the price of a six-pack of Hebrew National hot dogs shoot up to $600.
*Let the government set the prices for every good and service known to the economy. So, like, charge a Rich guy $400 for a haircut but a Poor guy would only have to pay $4 for the same haircut. And watch the barber's business fold. Another empty storefront!
Catch my drift? There is no way of achieving Income Equality. It's a fantasy. The ways that have actually been tried never came close to working, and always did more harm than good.
And for Joe Biden to be yammering about Income Inequality, when he and his whole family have gotten disgustingly wealthy by selling government favors to foreign interests, some of them more than a little unfriendly to our country–how do we stand it? Is there any limit to our toleration?